All BVD testing is carried out by AHWNI designated laboratories.
Friction free tag rotation avoids entanglement
3 in 1 biosecure action – Tag/Sample/Seal
Clean ear punch gives a quick-heal piercing
Easy-read fade free numbers, unique font & superior laser mark
Easy tagging with one strip per animal
Fast dry EasyMark permanent pen for your management tags
Universal tagger – robust & durable metal tagger with unique straightline action
For over 10 years The Caisley™ Geno System has been used not only for genetics and genomics, but disease control, management, traceability & provenance. Caisley™ is the world leader in this sector.
A commercial 100,000 tagged animal trial by Identitas determined over 99% retention in the field over time-full results on request.
Key Features that determine Tag retention
1 Design of the applicator
Straight-line action drives male and female precisely together
No damage to male or female locking mechanism components
Minimises damage to ear tissue and animal trauma
2 Tag raw materials
Formulation using blend of premium quality plastic ingredients
No recycled materials used
High elasticity and tensile strengh allows tag to be released when snagged
3 Design of Male and Femail locking mechanism
Hardened glass-fibre inserts (grey and green) in male and female punch a clean hole in the ear-tissue
Cleanly punched hole in the ear-tissue allows free and frictionless tag rotation throughout the lifetime of animal
Choose your Caisley™ Geo System Tagging Combination:
Large Flag tissue or Medium Flag tissue sampling strips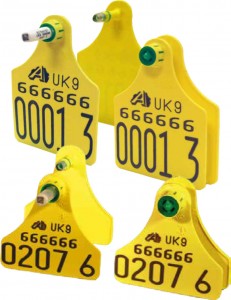 Large Flag EiD tissue sampling strip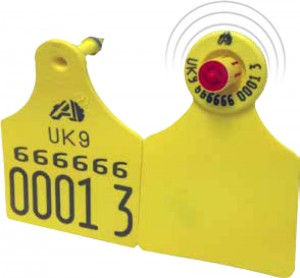 Button options are also available